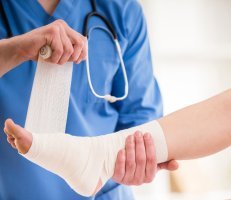 Kansas City Institute of Podiatry – Wound Care Specialist
If you have diabetes, your feet are vulnerable to infections and sores that don't heal. But you can prevent these problems with comprehensive diabetic wound care from our doctors at Kansas City Institute of Podiatry. They can provide the full range of care, from yearly preventive exams to wound treatment prescription shoes. It's important to get early diabetic wound care to prevent complications, so call the office in Overland Park, Kansas or book an appointment online today.
Diabetes that's not well controlled with diet or medication causes high blood sugar. Over time, high blood sugar damages small blood vessels, which disrupts circulation in your feet. Without normal blood flow, small cuts and sores can't heal properly, so they may worsen and become diabetic foot ulcers.
High blood sugar gradually damages nerves. This condition, called diabetic neuropathy, makes it hard to feel sensations such as the pain of a cut or ulcer.
Diabetes also interferes with your body's natural ability to fight infections. A higher risk of infection combined with wounds and sores that don't heal increase your risk of complications.
You can prevent diabetic foot ulcers by following a daily routine of examining, cleaning, and moisturizing your feet.
If you see any of the following, contact the team at Kansas City Institute of Podiatry for diabetic wound care:
Cuts
Blisters
Calluses or corns
Swelling
Pain
Bleeding
Change in skin color
Change in temperature
Dr. Roith and Dr. Russell specialize in all aspects of diabetic foot care, including routine preventive exams and services such as:
Diabetic Wound Care
Treating a wound or ulcer is essential to prevent infection. Your treatment may include any of the following:
Debridement: removes dead tissues and cleans the ulcer
Medication and dressings: protects the ulcer from shoe pressure and promotes healing
Off-loading: removes pressure on the foot ulcer with special footwear, braces, or crutches
Foot-deformity treatment: takes care of bunions, hammertoes, calluses, and other conditions that increase your risk of an ulcer
Blood-sugar management: lifestyle changes, medication, and diabetes education to keep blood sugar levels normal
Diabetic Shoes
Poorly-fitting shoes are one of the biggest causes of diabetic foot complications as they rub your skin or put pressure on one area of your foot.
Red spots, sores, blisters, corns, and calluses are signs you may need prescription shoes that relieve areas of pressure, stabilize your feet, and prevent skin damage.
The team at Kansas City Institute of Podiatry provides the full range of care, including custom-made shoes, orthotics for pressure relief and shock absorption, and external shoe modifications to add shock-absorbing or stabilizing materials.
To receive gentle, expert diabetic wound care, call Kansas City Institute of Podiatry or book an appointment online.